2020-05-06
Drake International Aids Fort McMurray During COVID-19
 As seen on Global News Calgary
Janet Ross our Western Canada Regional Manager shares on Global News some of these measures undertaken by Drake International to protect our workers during this time of COVID-19.
Video Source: https://globalnews.ca/video/6891100/fort-mcmurray-still-unsure-about-future-water-levels
Drake International has always prided itself on being an employer of choice, especially when it comes to providing workers to support communities during clean-up in times of need. As a global company that started its operations in Winnipeg in 1951, Drake has provided support to Canadian businesses from coast to coast during times of need.
A few years ago, Drake was instrumental in providing workers to assist in the cleanup of the tragic 2019 Alberta forest fires, as well as the large Agricultural College fire that devastated a town in Halifax.
We are proud to announce that our Calgary and Edmonton field staff employees are once again stepping up to assist with the clean-up operation from the most recent Fort McMurray flood.
While this will not be easy, our team of skilled, field staff employees are ready to help in any way possible. From cleaning floors, removing debris and assisting with restoration – the team is ready to provide all hands-on deck to support our community.
Drake ensures the safety of our field staff employees is a top priority in every job we tackle. And now, especially during the COVID-19 crisis – Drake has gone above and beyond to ensure we are not only meeting, but exceeding, health and safety standards.
All field staff employees assigned to this clean-up will be provided with transportation to the worksite and safe lodging, where physical distancing will be strictly adhered to. Additional cleaning protocols at the lodge have been set up to ensure maximum cleanliness for our workers. Our dedicated team of Drake employees will be available at all times to assist with questions or concerns and support our field staff employees in any way possible.
We are thankful that as an essential business during this time, we can continue to assist our amazing clients – who are able to support and restore their communities in times of need. Drake looks forward to continuing to stand with Fort McMurray during this time.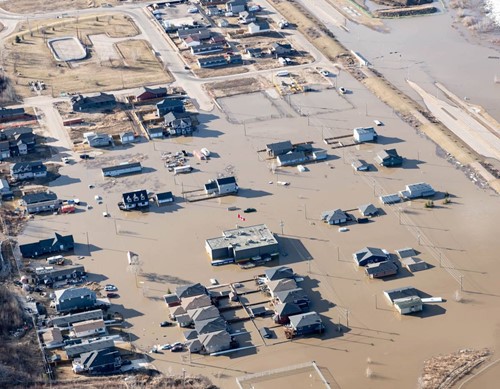 (THE CANADIAN PRESS/Greg Halinda. Image Source: Global News. The flooded Waterways neighbourhood in Fort McMurray, Alta., is shown on Tuesday, April 28, 2020.)